Handheld LED Light Therapy Device
Handheld Light Therapy Device lets you give the benefits of Light Therapy to the entire body!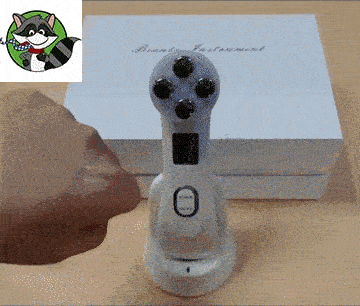 The same technology as the original LED Light Mask, now in

handheld form for whole body use

.Previously reserved to specialized beauty salons, LED Light technology can be really expensive and time-consuming: from

$300 per session

one to three times a week. Thanks to the affordable price of this handheld light therapy device, you will

save money on its first use

(compared to a beauty salon treatment) and you can use it from the comfort of your home whilst watching your favorite movies or shows.
A question we often get is what's better the mask or the handheld device? 
The light therapy handheld device is better for spot treatments or used on various parts of the body. The mask on the other hand is suited better for your face and neck. 
Additional Features over light therapy in this device:
Nonporous mesotherapy: 

You can apply any of your creams and serums before using this device and the current flowing through it will make your skin absorb the nutrients 10 times more! No more needling required for mesotherapy.

Electroporation:

T

hrough special current this handheld device opens the gap of the skin cells, making the effective skincare creams go directly into the dermal layer.
RF current:

H

igh frequency electrical resistance heating that promotes lymphatic and blood circulation. This results in deep skin relaxation, that reduces wrinkles and tightens the skin. 
Available Light Therapy Colors and their benefits -
Red Light (620-630nm)

- Stimulates the growth of collagen. Collagen is an essential protein that is used to repair damaged tissues and to replace the old tissues. It can remove fine lines and shrink pores. Red light is most widely used light color for light therapy.

Blue Light (465-470nm)

 - Kills Porphyrins. In addition, the blue light has calm action which is very effective for hypersensitivity. 

Green Light (515-525nm)

 - For uneven and pigmented skin tones, to reduce mild breakouts and improve overall skin tone. Improve aging skin. Reduce skin grease secretion and lightens skin tone. 

Yellow Light (565-590nm)

 - It can improve the exchange of oxygen in the cells, replenish their energy, decomposing pigment, promotes lymphatic drainage, reduces wrinkles and rough skin. 

Pink Light (700nm) -

 Evens the skin tone. There is also a flashing pink light made that improves the absorption of skin care products! 
Delivery Timings:
Within USA: 3-5 Business Days (Ships directly from USA)
Outside USA: 11-15 Business Days
 - - - - - - - -
POCKET RACCOON'S 5-POINT HAPPINESS CHECKLIST 
FREE shipping. No surprises or hidden fees.
Safe payments via PayPal® 

Or Any Credit/Debit Card

30 Day Money Back Guarantee
Real humans on our support helpdesk!

(sorry, no raccoons there)

Tracking number for every order.
We use encrypted SSL certificates for 100% security.